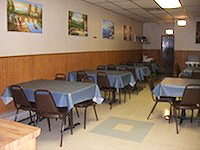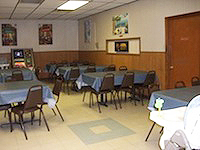 We have a 50-person seating area perfect for any get-together. Our seating area is available, for reservation, to all customers. This area is located away from our main counter, in the rear of the store. The room is available 5 days per week (except for Mondays and Fridays), twice per day, and limited to a 2-hour time block per reservation. Typically reservation times run from 2:00PM to 4:00PM or from 5:00PM to 7:00PM. There are virtally no limitations to the types of parties the room can be reserved for, however, room activities should not interfere with or disrupt normal operations, customer foot traffic, or "eat-in" customers seated in the front of the store.
There is a non-refundable fee of $40.00 for every reservation made. Customers must also sign a "Room Reservation Agreement" which can be picked up in the store or can be downloaded at the bottom of this page.
Listed below is some more information that you may find useful...
| | |
| --- | --- |
| * | Plates, Napkins and Cups are included. |
| * | We have a total of (3) Highchairs available. |
| * | Pitchers are available. |
| * | Cake storage is available. |
| * | Jukebox Entertainment. |
| * | You may bring your own Entertainment. |
| | (NO DJ's PLEASE) |
| * | You must provide your own decorations. |
| | |
Please feel free to contact us with any additional questions you may have.